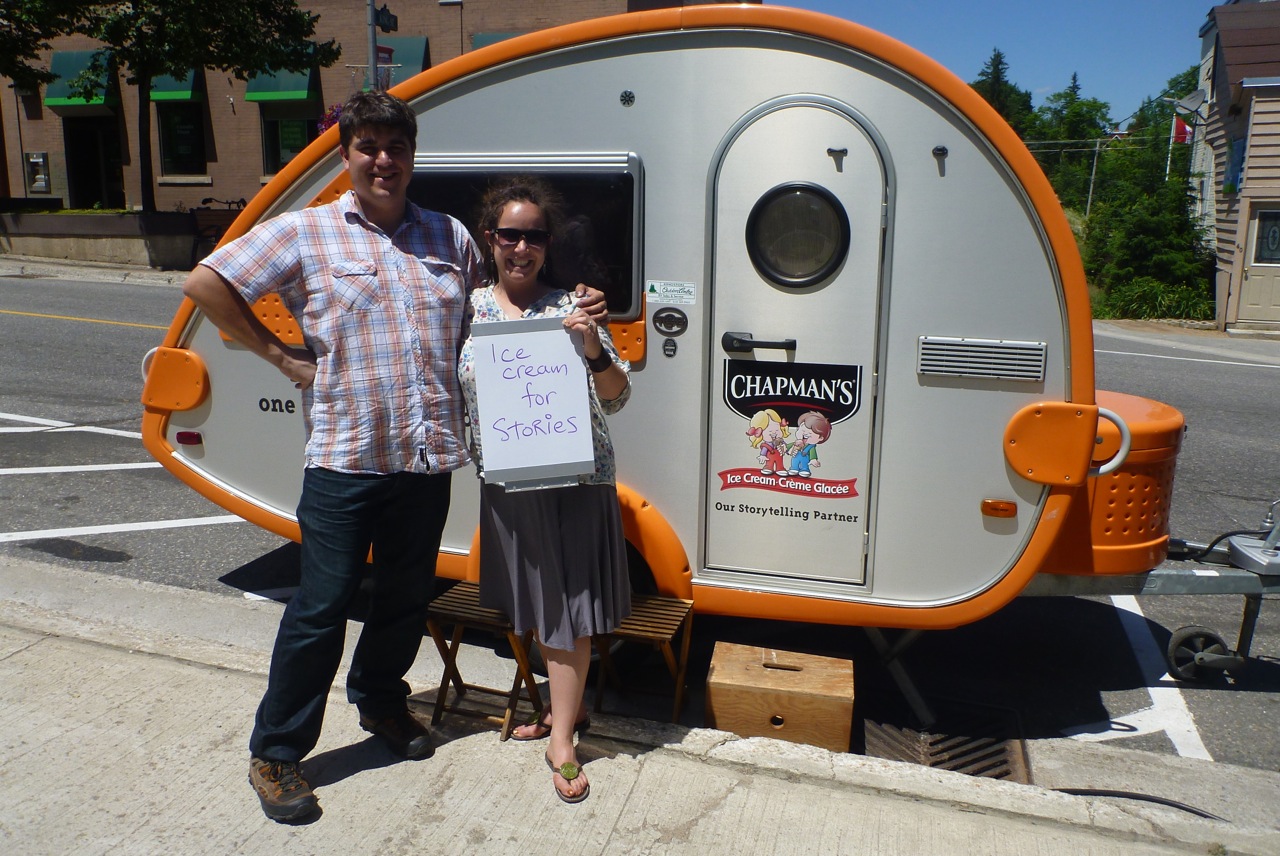 Day three began bright and early - by 8am we were in Helena's office in the chamber of commerce to call into CBC Ontario morning.  The bathtub derby revival was the story of the week.  Take a listen to the CBC podcast and check out the photo of this legendary even from the past that Helena just happened to have on hand! CBC Ontario Morning - June 29th
At 9am we met the mayor of Huntsville outside the town hall for an interview.  We took a walk down main street while he shared his knowledge of the town with us in an appropriately jovial and excited way, the mayor explained some of the recent developments, plans for the empty lot where the empire hotel had been and we had a few chance encounters on the street, notably when the mayor unknowingly greeted a couple who had just closed the deal on their new home in Huntsville.  In our excitement we didn't get a photo with the mayor but here's the old town hall whose clock tower we discovered is from Union Station in Toronto:
Next we started to set up our storymobile.  We hooked up the power, filled the cooler with Chapman's ice cream, and then declared ourselves open for business.  One thousand dollars for an ice cream OR a story about downtown Huntsville!
All kinds of people traded us stories that afternoon, from kids to cottagers to long time residents to local business owners.  We had a blast and we started to get a sense of what this town is all about.
We were happy that our storymobile was inviting to all kinds of folks.  It felt accessible and easy and most of all fun.
When we ran out of ice cream, we knew we were done for the day.
We headed to bracebridge to pick up the chapman's ice cream vouchers for the week at Purolator and headed back to our spot.
That evening we went for a paddle boat ride and discussed our story gathering technique, revisited the questions we were asking and how we were posing the questions, and started to brainstorm about the Nuit Blanche North installation performance. The Empire Hotel kept coming up in our imaginations.  The empty lot.  Almost everyone has a story about it...